A brief correspondance with ShantiMayi
We sent ShantiMayi a few questions to introduce her to those of you who may not yet know her… And for all to enjoy!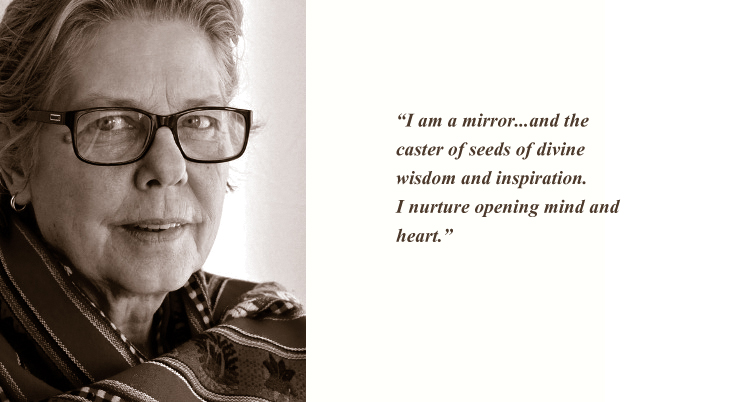 – What do you do?
– I am a mirror…and the caster of seeds of divine wisdom and inspiration. I nurture opening mind and heart.
– What motivates you?
– I don't feel "motivated"…I am led to where I need to be, to do what I need to do and
I am devoted to that which leads me.
– What is Sacred Circle?
– Sacred Circle is often called in other spiritual environments, satsangh. Being that I am not affiliated with Hinduism, though that was a very fertile ground of oceans grace in my life… I decided to call 'my' gatherings Sacred Circle….self explanatory in the name…no? It is a gathering of 'Truth' (which is left to the assembly, one by one to discover within themselves).
Yet, as I said earlier, seeds of inspiration and divine wisdom are cast and exchanged among the devoted and sincere hearts. Those that are discovering their 'True Nature'.
In other words, those who wish to attend are nourished. The assembly also nourishes me, profoundly.
– You have travelled the world for more than 25 years and met people in satsangh. Do you think the questions, the topics, the people themselves have changed over the years?
– I feel every question is important, even those that are re-questioned and re-questioned. Like grains of sand can be piled just so high, until the hill of sand collapses. The seeds are cracking open with every inquiry. Yes and no. Sometimes the questions are same sometime different. The ways of initiation are ordered in life…such as self love, open mind, detachment from thought streams. Perhaps the 'same' question comes from one who has never asked that same question before.
At some point one will be required from within, to take the answer and discover for oneself where the answer is directing. After all, answers are not answers, they are directives. Questions are seeds drifting in the wind, finding fertile ground… And then…the seeds crack open and take root… so to blossom fully in the hearts and open minds of sincere people.
– Are you a guru? (And what is a guru?)
– 'Guru', is one of the most misunderstood and abused words in our modern vocabulary. I don't like the term but I do understand the term very, very well.
My Guru was wonderful and a bright and shining light that guided me along a path through the dense wilderness of ignorance.
I am (could be called) a Mystic, a Journey Woman. If I have to be titled with a name it would be encompassed in Mystic , Journey Woman…however…..!!
Names are just that.
– It is a simple to understand collection of my talks ….from way in the past.
People have told me that they re read and re read the book. That's a nice thing to say and a good thing to do.
Meet ShantiMayi in Stockholm in June 2015! Read the full program here.