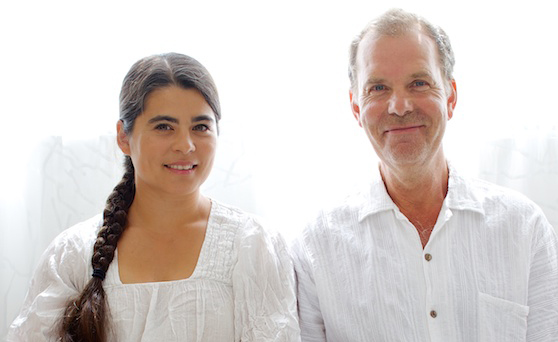 The founders of Spread the Word, Mikael and Candra Karlholm, perhaps would have made an odd couple had they not shared a deep interest in consciousness and spirituality. In life they have crossed paths with many teachers and some of these meetings have been life changing.
Therefore Spread the Word is passionate about contributing to a better world by serving the awakening to our true nature. We spread the word, the Daily Reminders, that om vårt djupaste varandeof our innermost being and the love in our hearts, and assist exceptional wisdom teachers in getting their message across. We also organize events where people may experience the truth behind the words first hand, and gather in an extraordinary community.
Mikael and Candra are experienced in doing this.
Mikael studied Tibetan Buddhism with H. H. the Dalai lama in the library in Dharamsala already when he was twenty years old and then did years of vipassana training with S. N. Goenka. Mikael brought vipassana (which is today often referred to as mindfulness) to Sweden and was part of founding Vipassanagruppen. He also spent time with Osho, Papaji, Ramesh Balzekar, Eckhart Tolle, Byron Katie and other teachers.
Since it was always natural for Mikael to share that which has benefited him with others, he soon started to invite spiritual and inspirational teachers to Sweden so that more people could partake in their knowledge, insights and experiences. During the last 40 years he has arranged events with hundreds of teachers, artists and workshop leaders. He has, for instance, had a close cooperation with Byron Katie for 15 years and 2013 he and Candra – at the time, Spiritual Events – organized an event with Eckhart Tolle in Stockholm with an audience of 2 000 people.
Mikael has always been passionate about gathering representatives of different spiritual traditions and create meetings and communities rooted in that which unites us all. He was also a part of starting and running Ängsbacka Kursgård and the No Mind festival which has been held there annually for more than 15 years, and to which people come from all over the world.
Candra började intressera sig för personlig utveckling och buddhistisk filosofi i tjugoårsåldern. Under flera år ägnade hon sig åt meditation, frigörande dans och yoga, och träffade år 2000 sin lärare ShantiMayi. Genom det mötet och den kontakten, som fortgått genom åren, har Candra stärkts i fördjupandet av en andlig, mental och känslomässig stabilitet och klarhet; något som hon fortsätter att kultivera i arbets- och familjeliv.
Candra has a bachelor's degree in liberal arts. For two years, she worked in Holma College of Holistic Studies in Höör, as a coordinator and tutor. She is a mindfulness teacher and, trained by Family-lab, she offers talks, courses and coaching for parents. She also leads women's groups since several years (trained by Awakening Women's Institute) and is an experienced and appreciated course leader.
Read more about Candra's work on her own website.
Mikael and Candra have been married for eleven years and have two daughters together.
Foto: Anders Rosenberg