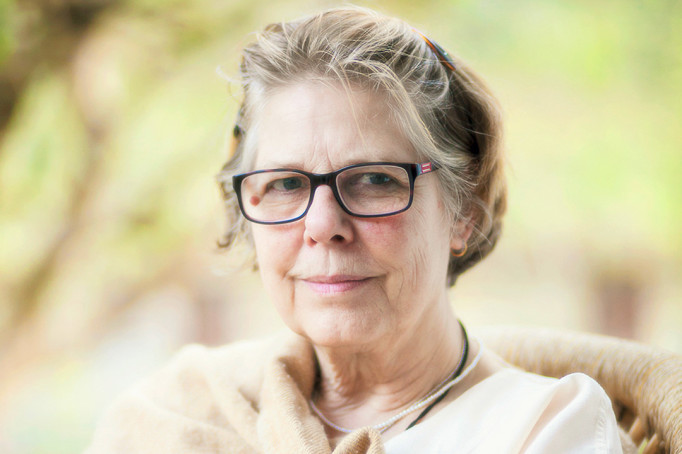 We are so happy that ShantiMayi returns to Sweden and, for the first time ever, offers an intensive together with Chameli Ardagh, founder of Awakening Women: Wisdom / Sophia Empowerment Intensive – a gathering of women. She also offers a One Day Intensive and Sacred Circle. Welcome!
ShantiMayi offers a flow of wisdom, blessings, encouragement and inspiration for all. She reminds us, time and time again, to return to the wisdom and clarity of our hearts. Here problematic situations find true solutions in integrity and boundless love.
For more than 25 years, ShantiMayi has traveled the world and guided listeners to 'live spirituality' in daily life with an open heart and open mind. In satsangh (in sanscrit "sat" means truth, and "sang" is gathering, community), or Sacred Circle as she also calls it, she wholeheartedly supports our maturing on the path of spiritual discovery within ourselves.
All are welcome to meet ShantiMayi in Sacred Circle*:
Sunday June 14th, 19.00 – 21.00
Monday June 15th, 18.00 – 21.00 (this is included in the One day intensive with ShantiMayi, see below.) The Sacred Circle of this evening also includes one hour of music and chanting with Ellen Molnia, starting 18.00. Sacred Circle begins at 19.00.
Monday June 15th, 9.00 – 15.00, and 18.00 – 21.00
This day we will take part in a special ceremony from the Kogi tribe of Colombia: a people that has been taking care of the heart of the world for milleniums. ShantiMayi has been connected with them for 20 years, and she can now with their blessing share this Balancing Initiation with us.
Watch a praised BBC documentary about the Kogis:

We will also meditate together with ShantiMayi, who will guide us in a "Sublime Attitude"-meditation for deeper inner peace. The intensive will end in the evening with about one hour of chanting and music with wonderful "Bhajan Fairy of the north" Ellen Molnia, followed by Sacred Circle.
Read more about the intensive – ShantiMayi tells us about the kogis, and more.
* Sacred Circle is an opportunity to address the concerns questions and discoveries that people bring to this precious time. Central to every meeting is a spiritually stimulating exchange among sincere people. ShantiMayi says:
– I feel every question is important. Like grains of sand can be piled just so high, until the hill of sand collapses. The seeds are cracking open with every inquiry. At some point one will be required from within, to take the answer and discover for oneself where the answer is directing. After all, answers are not answers, they are directives. Questions are seeds drifting in the wind, finding fertile ground… And then…the seeds crack open and take root… so to blossom fully in the hearts and open minds of sincere people.
Most welcome!
Follow the link to see all available tickets and prices. The option to buy one ticket to all events appears when you click on "buy" next to an event.
One day Intensive Monday June 15th is 1 100 SEK including the evening's chanting with Ellen Molnia and Sacred Circle.
Sacred Circle with ShantiMayi Sunday June 14th is 250 SEK. Monday June 15th it is 300 SEK since then the price also includes one hour of chanting and music with Ellen Molnia.
Wisdom / Sophia Empowerment Intensive for women, with Chameli Ardagh and ShantiMayi, 3 495 SEK.

OFFER:

EVERYTHING for 4 495 SEK!

This price includes:
Wisdom / Sophia Intensive with Chameli and ShantiMayi

Sacred Circle with ShantiMayi Sunday June 14th

One Day Intensive with ShantiMayi on Monday June 15th, including the evening's chanting and Sacred Circle
More about ShantiMayi:
Photo by Bibbe Friman.